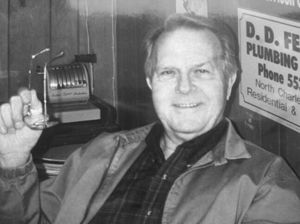 Mr. Bryant - Founder of Bryant Signs, Inc.
Bryant Signs, Inc. began as a result of the vision and dream of Ted Bryant in 1960. Mr. Bryant is a passionate entrepreneur who passed his company over to Kathleen Prosdocimo, who shared his passion for the sign business. After working together for ten years, Mr. Bryant and Kathleen had developed a unique father daughter relationship. In 2005, the company became Kathleen's.
With great financial risk, Mike Prosdocimo, Kathleen's husband, joined the company in 2006 as production manager, trusting that God would provide. Now, Kathleen Prosdocimo continues to carry on the dream and vision of what the company has become over its 50 years of business. Not only has Kathleen been blessed with Mr. Bryant as a father figure, a company of her own, but also the opportunity to work with her husband. Throughout the years, God's provision has been evident in Kathleen's personal life and the life of Bryant Signs. She is forever grateful to Ted Bryant, but first and foremost to Jesus Christ, who makes all things possible.